Berlin Science Week is an annual science festival from 1 to 10 November that brings together thousands of people from the worlds of science, business, politics, the arts, and society at large. As a global hub, its mission is to strengthen vibrant and diverse scientific networks as well as to facilitate a fruitful, open, and interdisciplinary dialogue between science and society.
On 2022 annual gathering, the year of Reincarnate born, our colleague Sabine Kruschwitz from partner Bundesanstalt für Materialforschung und -prüfung (BAM) participated at Berlin Science Week explaining how the Reincarnate project will avoid 80% of construction waste through intelligent circular economy.
In particular, BAM is contributing to the evaluation of recycled building materials based on data driven modelling approaches and machine learning. BAM team, together with other partners, will develop test methods that can be automated to assess the condition of easily recyclable building components.
Watch the recorded session following this link
Speaker: Prof. Dr. Sabine Kruschwitz, Department of Non-destructive Testing at BAM
---
How can Reincarnate avoid 80% of construction waste in Europe through intelligent circular economy?
The average lifespan of a building in Europe is just under 40 years, then it is demolished. The reason is often what is known as functional obsolescence: if a building or even just part of it is to be put to a new or changed use, the necessary information on the original construction method is lacking for approval. Thus, the decision is usually made in favour of demolition and complete reconstruction.
This practice results in a large amount of construction and demolition waste, which accounts for 25-30 percent of all waste in Europe. It is true that the recycling rate with 75 percent in this sector appears high at first glance. But most construction waste is used in road construction and is no longer usable for the circular economy. Valuable components such as plaster partition walls, windows and façade elements usually end up in landfills.
During the presentation, Sabine explained the three big mismatches existing in the building sector when we aim towards circular economy:
The demand increases globally for building material while the natural resources diminish.
We typically have increasing quality requirements while our building stock is constantly decaying.
We don't have any information at all where the materials are in our urban building stock and what their condition is. There is no information platform ready for people who want to reuse the material and help preventing the waste to pile up.
And here is where Reincarnate comes into play. Reincarnate aims to anchor the idea of the circular economy in the European construction industry and significantly extend the life cycle of buildings, construction products and materials through innovative solutions. The core of the project is a circular potential information model and here we are developing and information system, pretty much like a Building Information Model but with strong focus on the circular potential of the components that allow us an evaluation of a building's circular potential – the reincarnation of a building.
This Circular Potential Information Model (CP-IM) will allow to store and capture all required data to understand the potential to extend the lifetime of a building, its building components and materials and to find optimal reuse possibilities for each of its elements.
"Reincarnate will also enable to trace construction products and materials across different buildings wastes management steps and construction sites. So basically, it will really establish all the necessary connections to important information data and agencies involved for reuse."
In the German field, the key solutions the project is developing (check here) will be tested in concrete terms in the renovation and conversion of Tempelhof Airport, one of the largest construction projects currently underway in Berlin.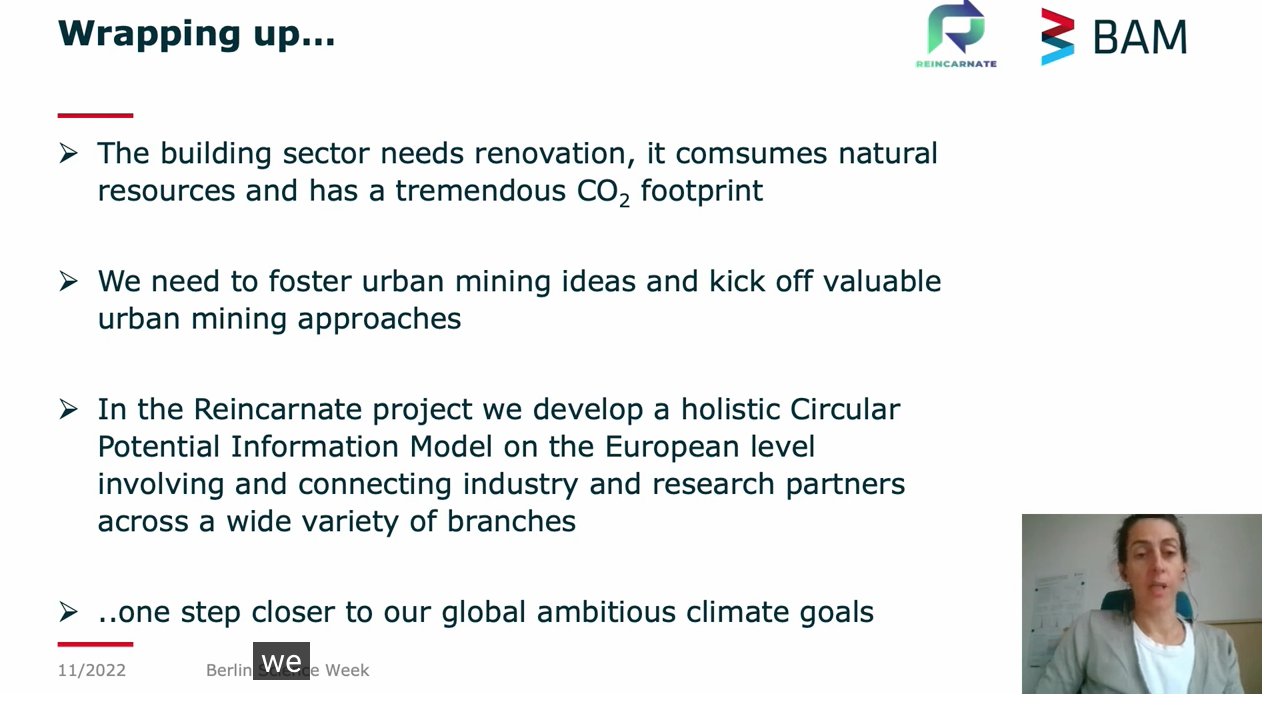 ---
Do you want to know more about Reincarnate innovations?